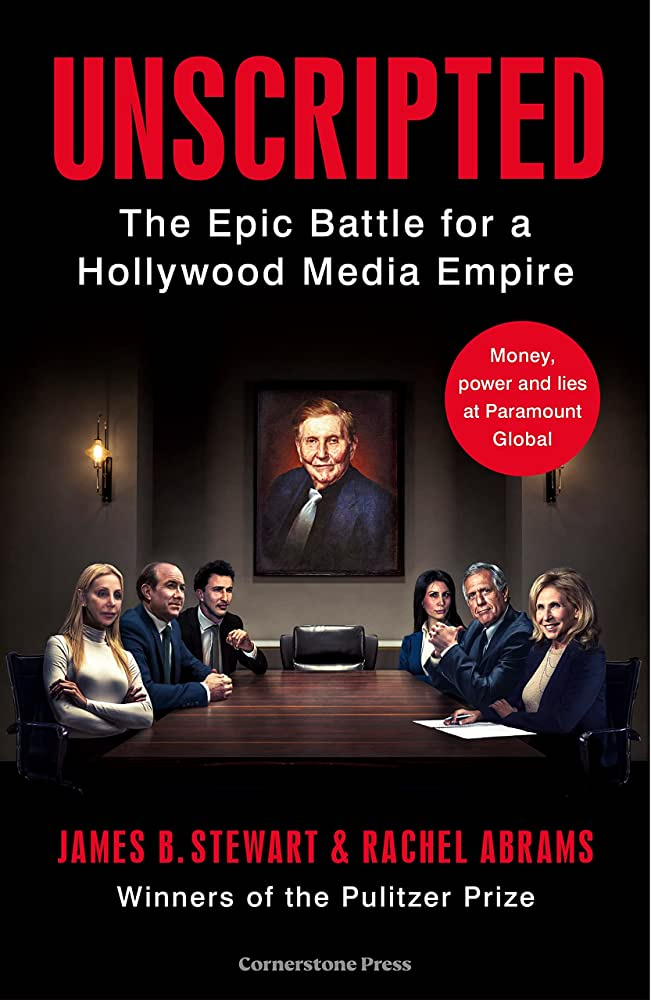 "I don't care," Sumner Redstone once said when questioned about his abysmal treatment of people. "I'm going to hell anyway." The media mogul, who would've turned 100 last month but alas has been bunking with Satan for going on three years now, was a complicated figure for sure. As we learn in Unscripted by James B. Stewart and Rachel Abrams, he was a genius, a terrible father, obsessed with winning & wealth, and a victim of unforgiveable elder abuse. As head of what is now known as Paramount Global, Redstone oversaw the release of massive hits like Titanic and Forrest Gump as well Viacom's cable mainstays like Comedy Central and MTV (so let's go ahead and hold him responsible for all the reality television rot that The Real World – and a prior writers' strike – has spawned). As ruthless as he was in business and in life, like many egomaniacs Redstone whiffed on a succession plan, spending his waning days as the demented fool listening bedridden via speakerphone to board meetings he supposedly chaired.
The book captures the endless drama that swirled about its protagonist. We get to peek behind the curtain to witness corporate boardroom shenanigans, wonky mergers & acquisitions activity, and lawsuits galore. Business lessons aside, at its core Stewart & Abrams deliver a sprawling – and cautionary – family tale. Redstone had two children: Brent, who ejected from the family business two decades ago with a fraction of the market value of his stake, and Shari, who gutted it out long enough to go from being the old man's heir apparent to "a rival, another competitor to be vanquished," and back again as his health deteriorated. Twice divorced and unmoored, Redstone dated a clown car's worth of women half his age, two in particular who schemed him out of tens of millions of dollars. That's cupholder change to a billionaire, of course, and his comeuppance would otherwise be easy to scoff at if not for such abhorrent behavior. When not enjoying mansions he bought and renovated for them, they moved into his to poison the well, cut off concerned family members, and weasel their way into his estate plan. Endless resources bought the patriarch a parade of servants and in-home healthcare providers, here as future whistleblowers, heroes of this story.
The other major, sunnier theme? Shari emerging victorious. Always the reluctant media executive who preferred New York over Hollywood and supporting other ventures, she nonetheless managed her father's belittlement & disparagement and wound up the moral compass on multiple boards of directors. In those roles, Shari also shepherded the exit of two problematic CEOs, both handpicked by Sumner: Philippe Dauman, whose main achievement in an era of substantial acquisitions & consolidation was billions in Viacom stock buy backs, and Les Moonves, the sexual predator who deserved his spectacular expulsion from CBS and not one red cent of severance. She deftly managed these matters and "confronted a pervasive problem in American corporations, which is the way chief executives dominate the boards charged with overseeing them." She's now charged with making up for the ground lost during these internal battles (see: PARA), no doubt a tall task now amidst all the cord cutting. Here's to a future book about her success, maybe one for young girls, an inspirational tale of overcoming the longest of odds.
If you have anything to say about this, kindly post it below (rather than emailing me) to spark conversation. Thank you!