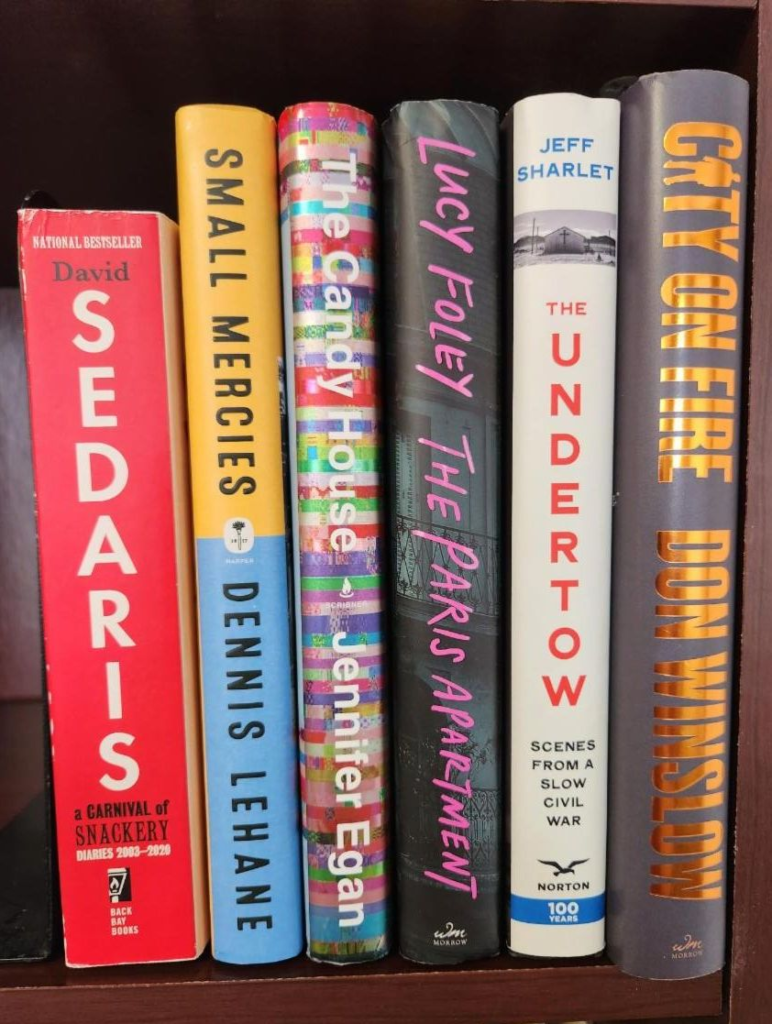 Break time! Proud to bring you my 7th annual report on non-business book recommendations. And people, when I tell you these six selections are all outstanding, that any are worthy of your precious downtime in a hammock or on a raft, sprawled out on a lakeside deck or in a rusty ol' beach chair, I mean it.
In order of increasing degrees of madness:
A Carnival of Snackery: Diaries 2003 – 2020, David Sedaris – Can't explain why I was so late to the party, but I've been making up for it by consuming a stack of Sedaris in recent months. This one is perfect for those looking for morsels of observational humor. Read a few, take a dip, repeat. Found this so hilarious I then read Theft By Finding covering 1977 – 2002. You get access to 45 years of someone's diary, and they end up feeling like your best (gay, fastidious, warped) bud.
The Paris Apartment, Lucy Foley – Enjoy a good family yarn? Look no further than Foley's latest, set in a beautiful old building. Jess, down on her luck, leaves London to crash with her brother Ben in Paris, but he's gone missing, and all the neighbors seem up to no good. Full of rich characters, dark alleys, and an unspooling mystery, this is one's ideally read at night, windows open, a spooky breeze blowing back the curtains.
City on Fire, Don Winslow – As they say in Rhode Island, "I gotta guy…" and now I do: Winslow. The Ocean State native's been cranking out crime story bestsellers for 30+ years and yet I've just been introduced. Set in mid-80s Providence, Danny Ryan finds himself mired in the multigenerational gang war among his Irish and them stinkin' Italians. Terrific action (read: violent) and can't wait to pick up the recently released sequel, City of Dreams.
Small Mercies, Dennis Lehane – Oh, it's a badass woman you seek as the central character of your novels? Meet Mary Pat Fennessy, a Southie projects brawler who in the summer of '74 is less than amused about the upcoming desegregation of Boston's schools. Within hours of her Black co-worker's son dying mysteriously, Fennessy's daughter goes missing. Terrific historical fiction with a reckoning on race, Lehane never disappoints.
The Candy House, Jennifer Egan – With ChatGPT dominating headlines the past six months, the timing is perfect to enjoy (fear?) Egan's inventive take on the role technology plays in how we live and what we can even clearly recall. If you've hesitated picking up this one because you never read A Visit From the Goon Squad, wait no longer. I read them in reverse order, and it made no difference as the latest is not a classic sequel, common characters notwithstanding.
The Undertow, Jeff Sharlet – Subtitling his new book "Scenes from a Slow Civil War," Sharlet bravely canvassed the US in search of answers to what ails such a divided nation. If you believe there can be no healing before understanding, then here is your chance to peek inside Christian conservatism, to hear directly from the come-take-my-guns radicalized right. With its gorgeous prose and photographs, this one sticks to the ribs longer than the typical beach read.
If you have anything to say about this – or book recommendations! – kindly post below (rather than emailing me) to spark conversation. Thank you!