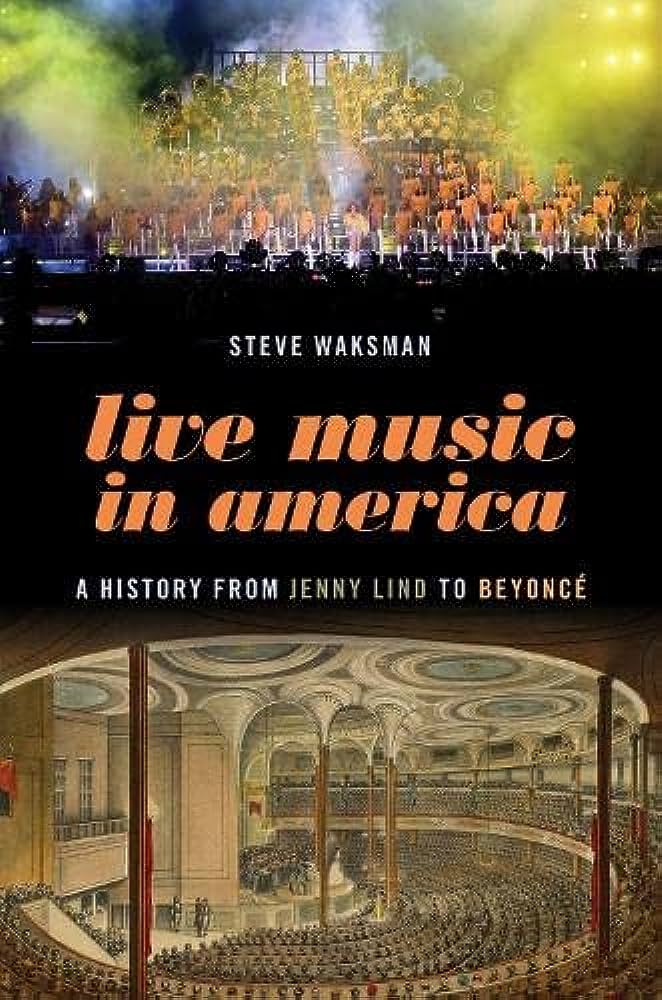 You know how a big book is sometimes described as a doorstop? Well Steve Waksman's Live Music in America is like a goddamn cinderblock. At 570 pages – plus another hundo of Notes and Index – even in paperback it's legit hard to hold up but worth it for music nerds. If you love going to concerts and wonder how the business works, this one's for you. Starting in 1850 with Swedish singer Jenny Lind's wildly popular 21-month tour of the States right up to the COVID shutdown, Waksman gives us backstage passes to any manner of show you can imagine: traditional, spiritual, classical, vaudeville, jazz, blues, rock, and hip-hop. "What allows live music to happen?" was the question that drove the Smith professor to spend over a decade researching and writing this one. And it's intriguing from the start as we learn auction pricing is not some modern nuisance we can lay entirely at the feet of the evil, monopolistic Ticketmaster or even bots; rather it's a 170-year-old workaround to prevent dealers from purchasing large blocks of tickets and then jacking up prices in resales to the public.
Tours got more profitable with the advent of varied showtimes and audience diversification. Matinees became common post-Civil War "to draw more women to the theater because the social conventions of the time held that only women of ill repute would be seen in public during the evening." Theaters were infamous for being rough and masculine, so venue respectability made shows more family friendly. Decades later, as the rock era took shape, radio deejays were key to concert promotion and staging events, raking in new revenue for their broadcasters and themselves. "In the process," writes Waksman, "they also made a significant contribution to the racial integration of musical entertainment." Alan Freed (who popularized the term "rock 'n' roll") and his colleagues integrated performances, segregationists be damned. Lessons in such marketing are found throughout. We learn of the wisdom in Chuck D's vision during the rise of Public Enemy. He loathed the predictability of homogeneous line-ups and starting in 1990 toured the suburbs with post-punk, alternative, and even thrash metal bands to broaden the exposure of their political hip-hop. (Picture pogoing, mulleted youth learning what time it is from Flavor Flav. Yeah, boiiiii!)
Predictability as a profitable business tenet cycles throughout live music history. In the latter half of the 19th century, printed programs would circulate alerting show attendees to not only what would be performed but also the availability of the sets' sheet music for purchase. A hundred years later, arena rock shows, in the soulless give-the-kids-what-they-want format, dominated and for a time killed off the chaotic, often unprofitable festival. But the book's true gems are the deep cuts, the unexpected nuggets. It was Harlem's commercial halls of the 1920s that spawned improvisational performance and dancing (take that, preacher man from "Footloose"). Duke Ellington popularized the sole-composer concert format, breaking new ground in jazz. And it was the 1992 Reading Festival – think Kurt Cobain torpedoing into Dave Grohl's drumkit – that helped ensure the ongoing success of Lollapalooza, Bonnaroo, and Coachella (including Beyoncé as 2018's historic headliner, celebrated in the conclusion). The timing of this publication is perfect to better understand our burgeoning experience economy. So, enjoy the show. Just avoid the brown acid that's going around.
If you have anything to say about this – or book recommendations! – kindly post below (rather than emailing me) to spark conversation. Thank you!