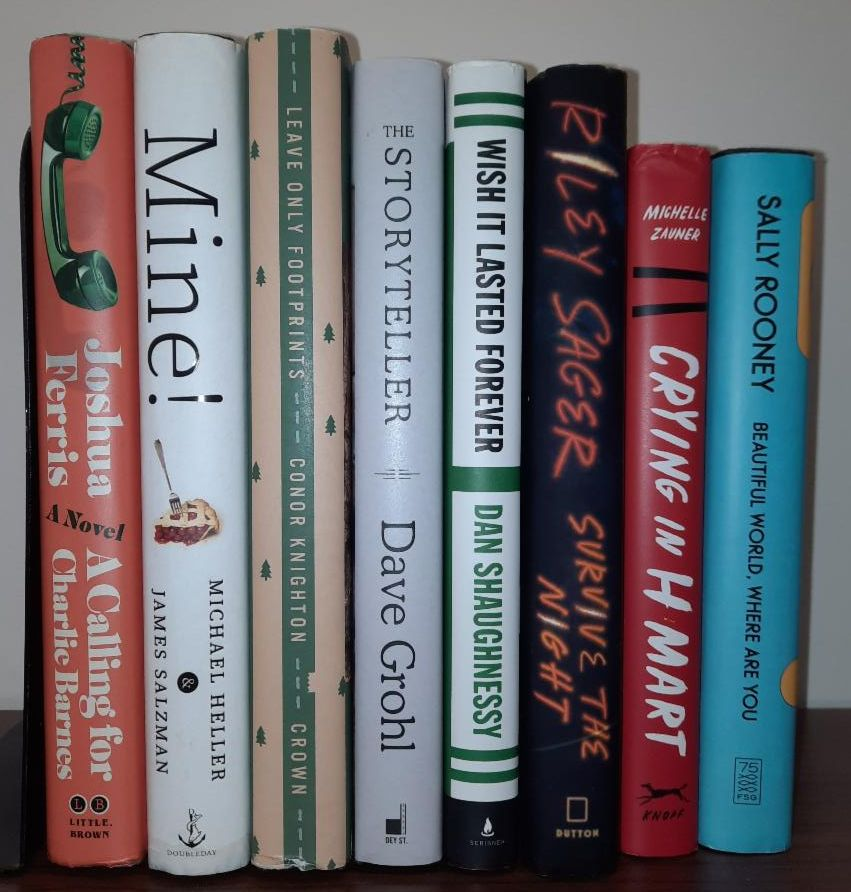 The price of gas and the overall cost of travel notwithstanding, it appears folks are vacating their premises in every direction. Here's hoping you've got time set aside to do a whole stack of nothing somewhere peaceful. And if a book might help, here are eight I've read lately that are all outstanding.
Memoirs are my jam (you heard me) as long as they're written by cool, relatable folks. Michelle Zauner, founder of the great indie rock bank Japanese Breakfast, comes off as that and more in her bestseller Crying in H Mart. It recounts Zauner's time nursing her mother through a terminal cancer diagnosis. The book's heartbreaking yet believe it or not mouthwatering as it's the sharing of Korean recipes that's at the core of helping repair a forever complicated relationship. Hard to put down, harder still not to eat. A notably different sort of rock memoir is The Storyteller by Dave Grohl. More meat & potatoes than kimchi, it nonetheless captures the author's wild rocket ride to stardom first by back-beating Nirvana, then fronting Foo Fighters. This one is jammed with stories covering Grohl and his mates (two gone far too soon) zigzagging the globe, inviting the reader to ride shotgun on the long, strange trip.
Prefer comedy? The funniest book I've read in years is A Calling for Charlie Barnes by Joshua Ferris. You see, like Zauner's mom ol' Charlie has terminal cancer… or does he? Maybe he's a just craven liar who craves attention from his sprawling, ungrateful family and other fools he's suffered along the way. A killer, twisty novel and LOL-fest that demands a second read. Another albeit dissimilar one that'll keep you guessing is Riley Sager's Survive the Night. It too centers on a protagonist named Charlie, in this case a collegian and her dubious decision to hitch a ride during a campus serial-killer scare from some random dude who may or may not work at the school. Sager (pseudonym for Todd Ritter) builds terrific tension as we try and figure out where this nutty road trip will end. Ideal for that misty night by the lake.
Far more earnest is Beautiful World, Where Are You by Irish bestseller Sally Rooney. Rooney is the Adele of novelists with her central characters always reflecting the author's current age. These four are whiny and self-involved but afford keen insights into how a swath of Millennials view a world in crisis. Fellow prudes be warned: the sex herein is, um, quite sexual. For a different take on a thirtysomething's love life, Conor Knighton's Leave Only Footprints is the real deal. Dumped by his fiancé, the vulnerable CBS Sunday Morning correspondent did what anyone would to mend a ravaged heart: he visited every US national park in one year, mostly on a shoestring budget. While the map and pictures help, it's Knighton's vivid writing that takes us over the river, through the woods, and far beyond. An indelible story with countless vacation ideas as a bonus.
Celtics fans can nurse the raw wounds of last month's dismantling of their team by the Golden State Warriors with one-time beat reporter Dan Shaughnessy's new diary-like Wish It Lasted Forever. It slips us back into mid-80's short-shorts when appearances in the NBA Finals were expected and championship parades commonplace. And speaking of arrogant arguments over rightful ownership, there's Mine! by Michael Heller & James Salzman. The pair of professors poke at possession from every angle, helping determine what's mine, what's yours, and "how the hidden rules of ownership control our lives." Perfect fodder for your friendly barbeque debate or airplane legroom brawl.
If you have anything to say about this, kindly post it below (rather than emailing me). Thank you!