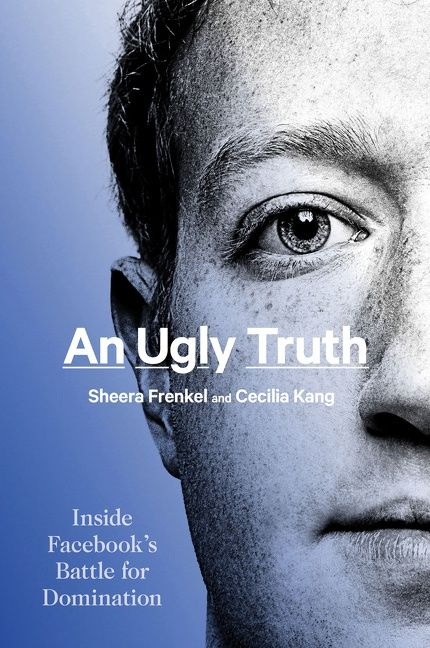 "The harms were baked into the design." That's one of the more memorable lines from the brand new book An Ugly Truth by Sheera Frenkel & Cecilia Kang, their investigation of Facebook (now, um, Meta). What comes out of the oven is piping hot junk, a enormous sugar cookie comprised of nonsense, hate, and lies, and the executives running the social media behemoth have always known of the harm, to kids and dunces alike. In a society riddled by addiction there are two forms of such overshadowed by the opioid crisis: the dimly lit public turnt on their News Feeds and those same executives with the insatiable appetite for data, of which there can never be enough. Atop the org chart sit CEO Mark Zuckerberg and his outgoing COO, Sheryl Sandberg. Over 300 pages summarizing deep investigative reporting, Frenkel & Kang paint a portrait revealing the former to be a power hungry goon, the latter a coward. Ugly indeed.
Zuckerberg's endless mission is growth at all costs. He famously spurred an early-days investment from Donald Graham so as to avoid "any of the fussiness, or Old Guard values, of traditional financing" that would've come along with a bedfellow like the Washington Post chairman. Since opting instead for freewheeling Silicon Valley capital, Facebook's co-founder has been like a wind-up toy – damn the torpedoes, the next billion users are out there primed to connect, post, and like stuff. According to the book, over its entire history the theme has been, "whatever continued the company's astronomic growth, user engagement, and market dominance, was the clear course forward." Left in its wake lie a misinformed populace and even genocide as Zuckerberg couldn't be bothered with details like the risk of data breaches caused by his "Open Graph" experiment – hello, Cambridge Analytica – or hiring content moderators that spoke any of the hundreds of languages indigenous to powder keg nations like Myanmar (the ludicrous assumption being what works in the US and Europe can simply scale globally). Even philanthropic work done alongside his wife Priscilla Chan is presented as an exercise in personal rebranding, the goal of which is to be Act Two-cherished as another Bill Gates. Could be the man has no soul.
For all the ballyhoo around her Lean In behavioral mindset, Sandberg comes off as – go figure – afraid of her boss, defaulting on clear opportunities to challenge Zuckerberg. And while she deserves most of the credit for building Facebook into the rocket ship it became (its market cap having been halved over the past six months notwithstanding), Sandberg has spent a good deal of the past 14 years belching PR hot air into the sky. The company's talking point that it doesn't technically share data is her "distinction without a difference" as "the company's profits, after all, were contingent on the public's cluelessness." Hearing what she wants to, naming her conference room Only Good News, it's as if long ago a tone-deaf Sandberg uploaded her conscience into the cloud and only now has deemed her ongoing participation untenable. Damage done. She obstructed while Zuckerberg maniacally makes Meta's primary apps "interoperable," akin to an antitrust omelet destined to never be unscrambled. We're left with the image of her sauntering off to sprinkle poison elsewhere, him giggling into that insipid Project Cambria headset. Shame on them both.